BEFORE SIGNING OFF AGREEMENT

| | |
| --- | --- |
| MPE's European Parliament over Brexit | Source: European Parliament |
CONTRACT WITH FERROVIENORD OF M€125
Responsible Author: Rahma Sophia Rachdi & Jedi Foster | Paris, Washington DC, 04/15/2021, 23:17 Time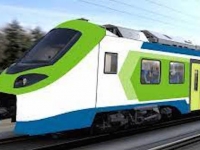 USPA NEWS -
Alstom has signed a contract with FERROVIENORD  for the supply of 20 regional trains intended for the regional railway service of the Region of Lombardy for a total value of €125 million. This is the second contract within a framework agreement signed in November 2019 with FNM S.p.A. . The trains will be delivered from June 2023 onwards.

The train ordered by FERROVIENORD, named "Donizetti" by the customer, belongs to Alstom's Coradia Stream range of trains. The single-deck electric trains each have four traction motors and a maximum speed of 160 km/h. They represent the latest generation of a model that is already in commercial service in ten Italian regions, and are produced in conformity with the Technical Specification for Interoperability (TSI).

"We are, as always, very proud to be working with our trusted partners FNM and FERROVIENORD to provide modern, comfortable and sustainable regional transportation in Italy. In the last 10 years, Alstom has delivered 54 regional trains for Lombardy. The new generation of Coradia Stream represents the best solution for meeting the increasing needs of both the region's travellers and the operator," said Michele Viale, Managing Director
THESE TECHNOLOGIES FOR BETTER INCLUSION
Responsible Author: Rahma Sophia Rachdi & Jedi Foster | Paris, Washington DC, 04/14/2021, 01:07 Time

USPA NEWS -
Cisco becomes the Official Network Equipment Partner, Official Cyber Security Infrastructure Partner, and Official Conferencing Software Partner of Paris 2024 Games.
• Cisco builds on its experience as the Network Equipment Partner for the Olympic and Paralympic Games London 2012, Rio 2016 and Tokyo 2020 and will also provide Cyber Security Infrastructure and Conferencing Software for Paris 2024.
• These technologies will contribute towards creating one of the most inclusive, sustainable Olympic & Paralympic Games Paris 2024 by bringing new levels of connectivity and interactivity to athletes, coaches, volunteers, tourists and spectators around the world. The Paris 2024 Organising Committee has selected Cisco to provide networking infrastructure, cybersecurity and video conferencing solutions to power the Olympic and Paralympic Games Paris 2024.  
| | |
| --- | --- |
| | Daren Frankish |
| | RAHMA-SOPHIA RACHDI |
| | Ruby BIRD |
| | Yasmina BEDDOU |
| | Aurangzeb Akbar |